Did you know that ...
... Russia is the world biggest country?
more
Difference between mass and weight
There is a big difference between mass and weight .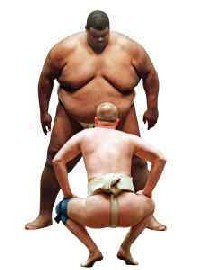 The mass of a body is a property characteristic of himself, who is related to the number and class of the particles that form it. It can be measured in kilograms (kg) and also in grams, tons, pounds, ounces,…
The weight of a body is the force whereupon it attracts the Earth and it depends on the mass of himself. A body that doubles the mass of another one, also weights the double. It can be measured in Newtons (n) and in kg-force, dynes, free-force, ounce-force,…
The kg is therefore a mass unit, not of weight. Nevertheless, many equipments used to measure weights (scales, for example), have their graduated scales in kg instead of kg-force. This usually does not represent, normally, any problem since 1 kg-force is the weight in the Earth surface of an object of 1 kg of mass. Therefore, a person of 60 kg of mass weighs in the Earth surface 60 kg-Force. Nevertheless, the same person in the Moon would weight just 10 kg-force, although its mass would continue being of 60 kg.
Then, the mass is not just like the weight, it measures the attraction that exerts the Earth on a certain mass.
Posted by Turrente (Translated by Curious)