Did you know that ...
... in King Kong (2005) a digital scene of New York with more than 90000 buildings was used ?
more
The Sleep of the Dolphins
Dolphins have different ways of sleeping.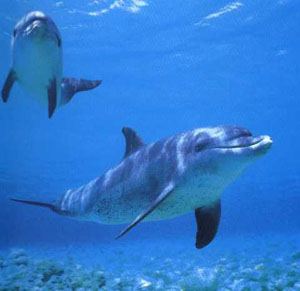 The Dolphins may sleep in different ways, depending of their needs.
Floating: As a trunk in the water, the dolphin can stay afloat, leaving only outside whater the part needed to breathe. However, this option leaves them too vulnerable to attacks from other dolphins or predators.

Assisted by other Dolphins: The Dolphins usually turns sleeping, in couples. One of the dolphins swim while another rests in the wake left by the other, thereby allowing them to move on the surface without making muscular effort. The small dolphins should be helped by their mothers during the first days. The mother does not sleep, because otherwise the little dolphin could become exhausted and sink, dying from asphyxiation.

Half Sleeping: The dolphins are able to close a half of his brain, leaving the other half active, and do so alternately to one side and rest each part. For example, if they have the left hemisphere of the brain disconnected, the right eye can not see.
Posted by Nube