Did you know that ...
... "The die is cast" was said crossing a river?
more
Pirates of the Caribbean: The curse of the Black Pearl
"Pirates of the Caribbean" have many similarities with Monkey Island videogame.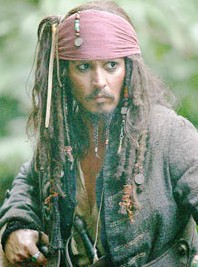 The attack to Port Royale looks much like the attack of the Monkey Island 3 to Port Chicken, in addition at the end all the city is left full of chickens.
But still there are more references to Monkey Island videogame. For example the character of the black girl who is in the crew, is the same character as the one who leaves in Monkey Island 1 and 4. The character of Barbossa captain when he is in skull or zombie state is like the bad one of the Monkey Island saga, the Lechuck pirate. Not to name the similarities of Will Turner to Guybrush Threepwood and Elizabeth Swann to the governor Elaine.
The duel between Will and Jack in the blacksmith shop looks like the fight of swords of the first part of Monkey Island, where the opponents interrupt themselves to interchange insults.
The film is based on an attraction of Disney World Orlando. TFrom this attraction was extracted the idea of the dog with the keys of the cell in the mouth, the guy that is sleeping next to the pigs, the drunkard that is drinking directly of the barrels, the gold knoll in whose top it is the Aztec treasure and the poster of the film where it is seen a skull in the rudder in the middle of a storm.
Is important to ment that Ron Gilbert was also inspired by the attraction of the Pirates of the Caribbean to create "Monkey Island". For that reason the game and the film have so many coincidences.
Tutle I
sland, the island where Johnny Deep recruit his crew, exists and is located near Haiti, between Cuba and the Bahamas.
Johnny Depp was inspired by the rocker Keith Richards to interpret Captain J. Sparrow
The tattoo that Orlando Bloom has in the right wrist for the shooting of "The Lord of the Rings", is covered during almost all the film. It is possible see it in the scene of the fight with swords with Sparrow captain, in the mill.
The HMS Dountless and the Interceptor really existed and were key ships in the English Navy that dominated the Caribbean.
Posted by Curious