Did you know that ...
... the actor Jean Reno is called Juan Moreno in fact ?
more
The Koala
The koala sleeps 20 hours a day.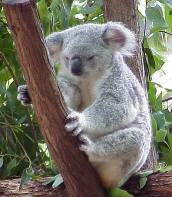 The Koala is a marsupial mammal that populates Australian zones and lives in the trees. They measure between 61 and 85 cm and weight between 4 and 14 kg and they are distinguished by their great dark nose and great ears.

They are nocturnal animals, they only make its activities at night and therefore they have a very developed ear and sense of smell, although we cannot say the same of its sight.

But most surprising is its way of life, they sleep around 20h a day, more even than the Pale-throated Three-toed Sloth, that only sleeps 18h. They make it to save energy and power to survive in conditions of food shortage.

Posted by Curious