Did you know that ...
... in King Kong (2005) a digital scene of New York with more than 90000 buildings was used ?
more
The Hummingbird
Hummingbird's heartbeat can reach over 2000 beats per minute.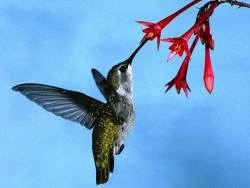 The Hummingbird is the world littlest bird, from the beak to the tail measures only 6cm (2.36inch). Is coloured with bright colours and has an extended bill and tongue (depending on the species) to easily collect nectar from the flowers.
Apart from their size the Hummingbirds have other curiosities,
Aparte de su tamaño los colibríes tienen otras curiosidades, have a very fast frequency of fluttering, they flutter 80 times in a second, allowing them to stay static in the air or to fly towards any part, to the side, backwards, ahead. They are the only birds that can fly backwards.
Posted by Curious